He is our little dude and this was his "little dude" party.
It was greens and blues and oceany hues [should I do this whole post in rhymes?? haha]
We incorporated turtles, because he's our little turtle man. Ella helped me make the turtles and jelly fish from paper bowls. Devon brought out his collection of surfboards that his dad made, plus the wooden beauty he created. I even made a shark pinata [I may recommend just buying one, it's a long process to create a pinata!]
We hung up life sized prints of our guy on a surf board, from the photoshoot we did for his invite.
And this here was one of my favorite elements-
Three generations of surfers. The first photo is Devon's dad [our Clifford's namesake], second photo is Devon, and last is little Clifford.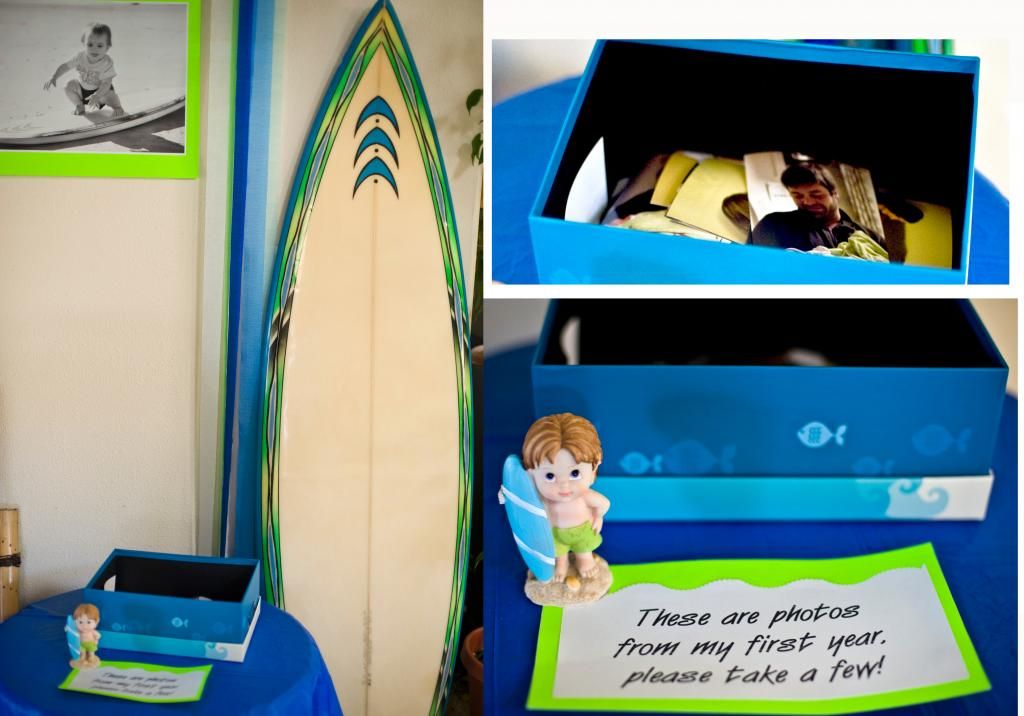 I went the simple route with his cake, and I loved it. I went through so many photos of options for cool surfer cakes and then Devon found this totally cheezy 1980's looking cake topper that he just HAD to have and I was like, "what the heck am I supposed to do with that?!" So, I just let it be the star of the show and I was pleased with the result. Plus, I saved literally hours of fooling around with fondant- win!
Okay, the food. The most important part, right?!
Devon also made this awesome surfer photo station. I can remember taking photos in this thing but I can't seem to find a single one with a person in it, so weird!
Games are always one of my favorite challenges. I struggled this year with coming up with "surfer" themed games but the end results were pretty good. We had a "turtle crawl" race, a nod to our little turtle man of course. We had a seashell search- I marked a seashell with a number 1 (it was a first birthday after all) and then buried it along with a bag full of other shells. The kids dug around in the sand until the "one" was found. We also played pin the surfer on the wave.
Clifford spent most of the party with his favorite person on earth, my dad. He even helped him hit a pinata for the first time! Clifford did a pretty good job whacking the shark.
By cake time this kid was spent! He didn't have the best nap in the morning and and his little body just couldn't handle all the excitement. He had a couple little bites of cake and proceeded to melt down. I took him out of the room and he passed out in no time at all.
When he woke up the party was over. The kids went home with these cute little beach buckets filled with shark tooth necklaces, sunglasses, little turtles and other fun oceany treats.
We opened his gifts later that night. Here is that cute little "Ricky Ricardo" drum I was talking about, isn't it adorable?! I just love watching him walk up to it and do his babalu. Ella got a special "big sister" present to thank her for being so good to Clifford throughout his first year. She was very excited about this! One of our friends had this idea too, she was thrilled to get two presents on her brothers birthday!
Because everyone left before he opened his gifts I promised people I would post pictures of what he got. My goodness I never imagined how much stuff he would get!
After setting it all up and snapping the photo I started my attempt at putting it all away and then found these other things hidden behind some stuff. I didn't want the people who gave them to him to feel left out, so they got their own photo ;)
And, when Ella saw brother getting a photo with all of his gifts she insisted on having one taken as well...
Silly little lady.